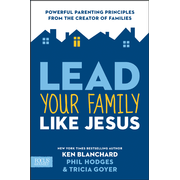 In the new book by Ken Blanchard, Phil Hodges & Tricia Goyer,
Lead Your Family Like Jesus: Powerful Parenting Principles from the Creator of Families
, EGO is addressed. EGO as in "edging God out."
It can be very easy to get caught up in what I as an individual can do when facing the daily grind, let alone the struggles that can become worrisome.
In the following excerpt from the book, we can see how important it is to skip the pride and "exalt God only" by finding peace.